This page is a small part of a greater whole Frames Page.
If all you see is one flat page, click here to get the RWC page as it is intended to be viewed.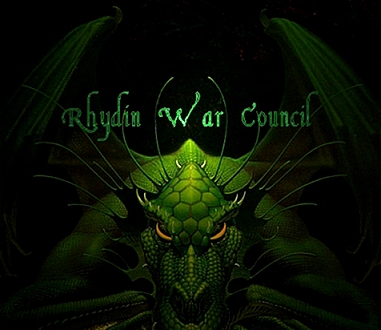 Preamble:

The Rhydin War Council (RWC) is owned and operated by the councilors and will only be as great as the leaders' participation and perseverance. The RWC is a coalition of guild leaders which exists to ensure justice for each of its participant guilds and their individual members. We do this by three means:

1. Formulate, amend, and enforce the RWC conventions and operations which serves
as the guidelines for conflict between guilds.
2. Confirm that all members comply with the RWC conventions and operations.
3. Defend the individual's gaming rights granted by the AOL Gods themselves, against
any who would seek to hinder or alter them.

The RWC caters to all guild alignments. Light, neutral, and dark are no different from each other and work together to provide a stable environment for all of its members. The RWC has withstood the tests of time. It has seen the birth and death of other forums. It has survived when presumed dead, rising from it's own ashes to become stronger. This has been accomplished due to the dedication and hard work of each councilor. These are the members of the Rhydin War Council....

*Note: All Guild Hyperlinks to the left change to Bold Italic when you pass your mouse over the name.
If it doesn't change then there is no page for that guild.*

To view the guidelines and current information, please visit the links below.



Page erected: March 3, 1999


The Rhydin War Council (RWC) is an America Online roleplaying forum.
Webpage design by Illyana King and Bridget Kinsley. Webpage counter courtesy of Link Exchange, Email graphic courtesy of Clipart Castle, the gold dragon crest graphic on the links page courtesy of The Absinth Amulet, green dragon image courtesy of Dragons and Dreams.com, said image has been altered to fit the RWC Website by Bridget. Webmaster asks that any parties wishing to use the RWC Green Dragon image, ask for permission before doing so out of respect for the creator.
*Note: Frames "stick" as a page sidebar. This site is not responsible for the content displayed on individual websites in the forum.*